How to become a "Drops of Fun" member?
Upon successful registration via Watsons Water "Drops of Fun" Rewards Mobile App or website, you will become a Tier-1 Member.
Why can't I register successfully?
Each valid mobile number, Facebook account and/or Wechat account (applicable when the membership profile is linked to your Facebook account and/or Wechat account) can only be eligible for registering a membership account once.
What should I do if I forgot my password?
Please visit "Drops of Fun" Rewards Mobile App and click "Forgot Password". Please enter your registered mobile and SMS verification code will be sent to your mobile. Please enter the code to reset your password.
Where can I check the membership tier and Reward Point record?
Members can view the latest membership tier and updates of Reward Points under "Profile".
How to earn Reward Point?
How to redeem gift?
(i) Members can browse for gifts, the required Reward Points under "Gifts" in the App or the Program's website. Reward Point(s) redeemed will be deducted automatically by system after the redemption is confirmed.
(ii) Redeemed gift(s) can be viewed in "My Gift". Members can check the redemption details and expiry date for each Gift.
(iii) All gifts must be redeemed by the expiry date.
(iv) Any expired Reward Points will be automatically forfeited.
(v) For certain gifts Members can only redeem within Hong Kong.
How to become a Tier-2 or Tier-3 member? What are the benefits?
When do the Reward Points expire?
The Reward Points are valid from the earning date until the end of the next calendar year end. For example, Reward Points earned on 1 February 2019 will expire on 31 December 2020.
Why is my birthday information in "Profile" incorrect?
For members who registered before 19 December 2018, only birthday month is required during registration. The year will be defaulted as 1900 and the date will be 1st. If members have not provided birthday information during registration, the birthday will be default as 1 January 1900 or 31 December 1900.
Why do my Reward Points become zero in Home Page on 1 January?
The record shown in Home Page indicates Annual Accumulated Reward Points of a member, which will become zero on 1 January every year. Members are required to accumulate sufficient Reward Points to renew your respective membership by the end of December in each calendar year. Otherwise, you will be reclassified to the relevant membership tier by our system. For example, if a Tier-3 Member's account has only accumulated 300 Reward Points in 2019, this Member will become a Tier-1 Member starting from 1 January 2020.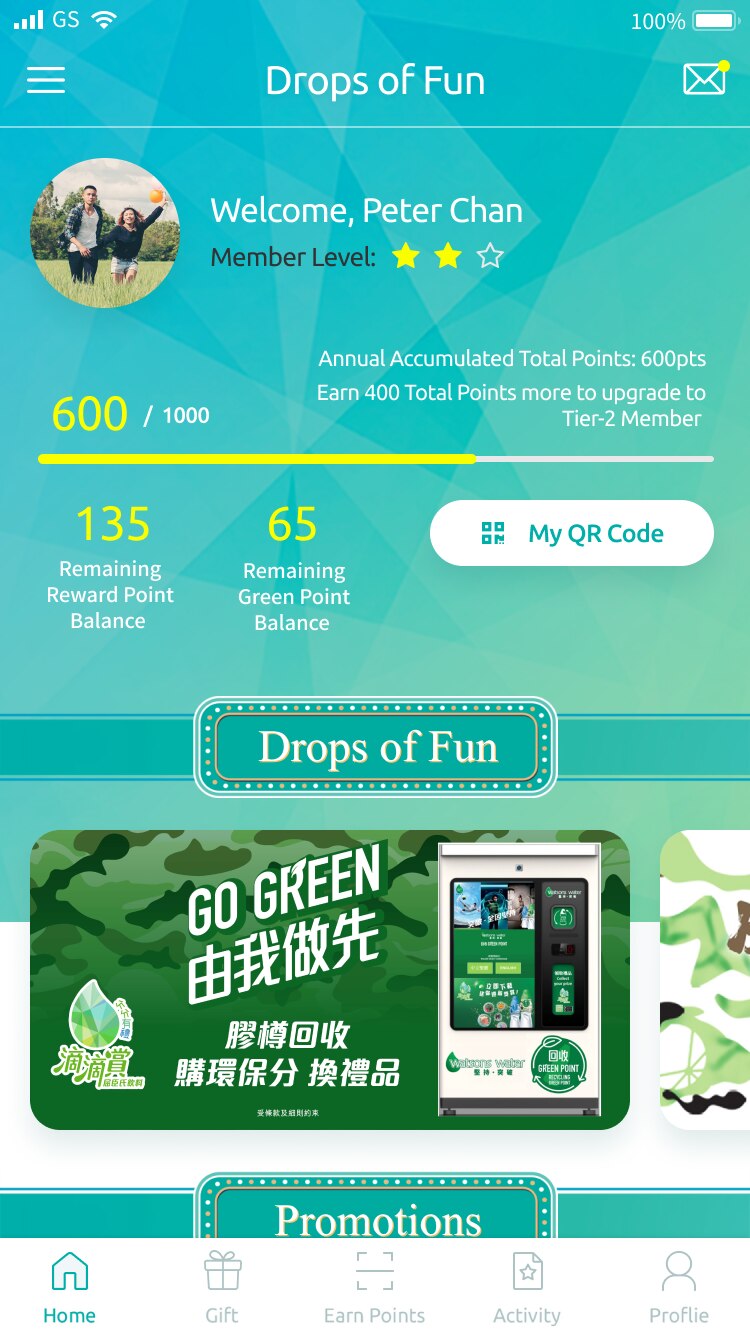 If member would like to check Remaining Reward Points Balance for gift redemption, it is shown on the "Profile" page. The Reward Points earned in 2018 will be expired by the end of 2019.